| | | |
| --- | --- | --- |
| Fraudulent letting agent sentenced by court | | |
Friday 13th July 2012

The owner of a letting agent which shut down owing money to tenants and landlords has been sentenced.

Anne Gardiner, former proprietor of Belvoir St Albans, which closed down in November 2009, received a two-year suspended sentence at St Albans Crown Court.

She was also ordered to do 130 hours of community service, and an order was made that confiscation be undertaken and a figure to be agreed to be repaid to the court for the proceeds of crime.

The firm was part of the National Approved Letting Scheme at the time of closure.

Yesterday, NALS said that its NALS Client Money Protection Scheme has reimbursed a total of £192,000 to tenants and landlords whose funds were misappropriated.

Gardiner, who was previously in sales, marketing and training for BSI quality insurance, set up her Belvoir business in June 2007, apparently via her business Simply the Best Limited.

Belvoir said in a statement: "The sentencing sends out a clear and strong message that any fraudulent activity by dishonest lettings agents will be dealt with severely.

"Anne Gardiner's actions in 2009 let down a lot of people and Belvoir will not tolerate any behaviour which breaks the levels of trust which the company and its 140-plus franchisees nationwide have spent many years building with landlord and tenant clients.

"Anne Gardiner's own business, 'Simply The Best Limited', operated a franchise agreement with Belvoir until late 2009 when a routine audit by the company discovered financial irregularities concerning the management of client funds.

"Belvoir acted swiftly and decisively by reporting the matter to the police, at the same time terminating our franchise agreement with Anne Gardiner.

"Some of the client business operated by Belvoir St Albans was then taken over by our experienced and professional team at Belvoir Central Office, who have since continued to provide a service to the landlord clients affected by the St Albans closure. We have even received letters of praise for the way in which we have dealt with matters.

"Fortunately, because Belvoir insists that all of its franchisees are licensed with the government-backed National Approved Letting Scheme (NALS) and covered by the NALS Client Money Protection (CMP) Scheme, all clients affected by the St Albans closure were fully protected and suffered no financial loss.

"We hope that the actions we have taken, and the systems we employ, have helped to minimise any damage to valued clients.

"We are extremely proud of the Belvoir brand and will continue to ensure that all of our franchisees operate to the very highest of standards and with total integrity."

Anne Gardiner's Simply the Best Limited company is still active, according to Companies House, and is regulated by the FSA. A compulsory strike-off was suspended in March 2011.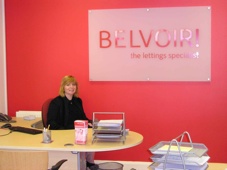 Post Comments
Please login to post comments.

Post Comments without Login

DISCLAIMER:
Feedback:
If you have any questions or suggestions about this article or our news section, please don't hesitate to contact us.
Editorial Contact Details
-
Rosalind Renshaw
rosalind.renshaw@gmail.com
0845 672 6000
Related News Stories
Most Read News Stories